On Monday, January 30th, Social Innovation Forum hosted a workshop titled "Leading with Presence: Storytelling" facilitated by Ariel Group, an SIF in-kind partner. The 2023 Social Innovator Accelerator cohort joined the workshop in preparation for their pitch presentations at SIF's Social Innovator Showcase on Wednesday, May 17th. 
The workshop centered on the idea of presence and guided participants through activities on how to best motivate and inspire others through the power of connection and storytelling. "The exercises helped the Innovator cohort get comfortable being on stage but also in being authentic and vulnerable," says Jane Calvin, Executive Director of Lowell Parks & Conservation Trust. "The added bonus was getting to know our SIF cohort in a much deeper, more meaningful way!"
Veronica Barron, a trainer and facilitator at Ariel Group, led the workshop and provided valuable support to the participants. "She challenged us to step outside of our comfort zone and provided a comprehensive framework to help us improve and expand our presentation skills," says Zaida Ismatul Oliva, Executive Director of chica project. "The workshop was truly valuable and I felt like I walked away as a better presenter." After the event, we invited Veronica to share some key takeaways from the workshop. 
What is "presence" and why is it important?
Presence relates closely to authenticity. Each nonprofit leader has a unique story that led them to the work that they do. By showing up in a way that is authentic to them, leaders invite the audience to have a peek at their values and their approach to leadership. Listeners see the reasons and methods behind their work and their worldview. Our workshop was a chance to practice congruence: bringing together one's internal life (such as thoughts, feelings, and perspectives) with their external expressions (through body language, vocal tone, and facial expressions). When we let our authentic values show — in the words and stories we choose, but also in our body language, face, and voice — others can see it and connect with our message and mission.
What is the PRESence model and how can it help non-profit leaders?
Ariel Group's PRESence model is a way of remembering the important pillars of presence: Presence, Reaching Out, Expressive, and Self-knowing.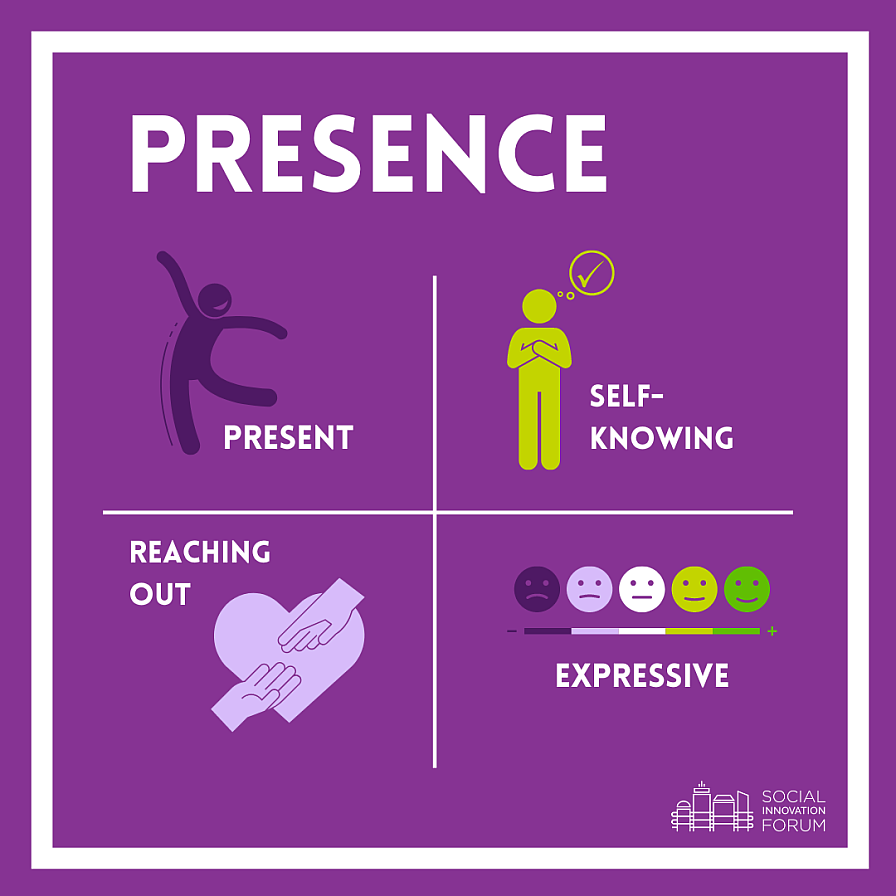 Presence refers to the ability to be in the moment, and flexible enough to respond to things as they change. 
Reaching out is about attuning to what is happening with others. By reaching out with one's attention, you can build relationships through empathy, listening, and authentic connection.
Expressive relates to the concept of congruence: the combination of internal emotions and external expressions comes together to form a leader's message. These two aspects of communication should align appropriately. Let's say a leader is expressing a lot of cheerfulness while delivering bad news — this can be confusing for the listener and doesn't help build trust. The opposite can be true as well: sometimes, a leader is speaking about something they feel deeply, yet that feeling is not conveyed to the listener, and the listener may not know the depth of care that the speaker has brought to this topic.
Self-knowing comes back to the idea of being in touch with one's authenticity. A leader should reflect on how their values show up in their decisions and actions. Another crucial piece of self-knowing is learning to understand and accept yourself. 
What are some best practices for storytelling in nonprofit practices?
Tell meaningful stories but respect your boundaries
Nonprofit leaders often have a personal stake in the work that they do — often, the leader may have a personal experience of injustice or hardship that led them to the work they do now. It's important to balance being vulnerable and authentic with knowing your boundaries. Storytellers have a right to keep parts of their personal lives to themselves. A personal story that feels right for one person to share in a business setting may feel way too personal for another person. Both of these experiences are normal. However, leaders can find meaningful stories without creating personal discomfort. A story can reflect what is important to the speaker or reveal their values without revealing personal hurt. For example, in some environments, I might share a story about visiting my grandmother right before her death. In others, I might share a story about an art project I made as a child and my experience with personal challenges and creativity. The first story has a more emotional charge for me to tell, while the second one feels easy and fun to tell — yet both stories tell you something about my values, and show something about what's important to me as a leader.
Tell stories that focus on one thing
Many nonprofit leaders focus on incredibly complex issue areas. It's not easy to summarize such complex work, and it can be tempting to provide lots and lots of layers of context. However, focusing too much on the complexity of the issue makes it difficult to keep your audience's focus. When you're speaking with non-expert listeners, find a story that shares a piece of that complex picture, but release yourself from the pressure to explain everything. It helps to have an outside listener to help you figure out which piece to tell, but remember, a story only has to tell one true thing, whether it is your mission, values, or leadership qualities. Trust that you can engage with people on one meaningful part of your story, and that's enough for one story. Then you can tell them another story the next time, now that you've touched their heart.  
Tell stories that you enjoy
In life, you will tell the same story many times, and you want to make sure it is a story you like telling! If the story is emotionally taxing or not interesting for you, it will be harder to engage with the audience every time you have to tell that story. Listeners respond to the speaker's enjoyment, even if it is a difficult subject. Find a story that excites you enough to want to share—something you can share wholeheartedly!
—
To learn more about leading with presence, or to register for a workshop contact Julie Zannoni, Ariel Group at jzannoni@arielgroup.com.
Veronica Barron is a trainer and facilitator at Ariel Group, as well as a theatrical director, performer, and puppeteer. She designs curriculum and facilitates training in creative practice, giving and receiving meaningful feedback, anti-bias interventions, and executive presence. She deeply believes in the power of clear, evocative communication to move people toward both feeling and action. Learn more at https://www.arielgroup.com/team/veronica-barron/ or contact Veronica at veronicabarron@gmail.com.